EXCITING NEWS THAT MEANS YOU GET MORE
TWO ARE BETTER THAN ONE
Windy Carter and Mindy O'Brien are excited to announce that we have joined forces and will now serve our clients as a team! We have worked together since late Fall of 2015 and found ourselves growing in the same direction with the same goals for our clients. So we created a team that would service our clients even better than what you have come to expect. We are committed to bringing you a marketing plan that is extremely effective, along with doubling our network to help find you the perfect property as well as many other benefits.
Having already put new plans into motion for the upcoming year to help all of our clients, we would love the opportunity to share in detail with each of you.
With our knowledge and expertise of Lake Martin real estate, your experience as a buyer or seller is sure to exceed your expectations!
P.S. We also serve the Lee County area as well!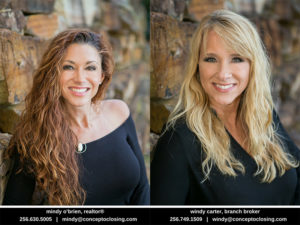 MINDY O'BRIEN REALTOR® | WINDY CARTER, BRANCH BROKER

THREE SIXTY {real estate} RESORT LIVING

Call or Text Mindy 256.630.5005
Call or Text Windy 256.749.1509
Email Mindy
#LifeOnLakeMartin
#LakeMartinSplash